We provide a wide range of services catering to each client's unique needs.
Shampoo & Style: $16-20
Longer hair: $20 & up
Wig or Hairpiece shampoo & style: $25 & up
Haircut & Style:
Women- $35 & up
Men- $17
Highschool Girls- $27 & up
Children- $14 & up
Perms & Bodywaves- $69 & up (price consultation available)
Highlights or Foil Frosting w/ cut- $89 & up
Color, Cut & Style- $75 & up
Naturalizing with 2 or more colors w/ cut- $94 & up
Waxing:
Eyebrows- $10
Facial wax- $20
Specialty colors: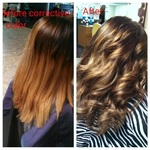 Color Correction: Price upon consultation
---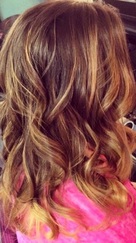 Balayage: Price upon consultation
Balayage is a French word meaning to sweep or to paint. It allows for a sun-kissed natural looking hair colour - similar to what nature gives us as children - with softer, less noticeable regrowth lines. The principal idea being less is more when creating soft, natural looks.
---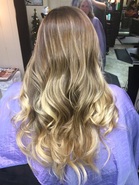 Ombre: Price upon consultation
The hair world borrowed the term 'Ombre' from the french word meaning shaded or shading. It is generally darker at the roots through the mid-shaft and then gradually gets lighter from the mid-shaft to the ends.

---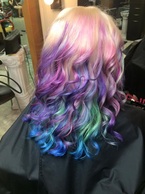 Fantasy Colors: Price upon consultation
---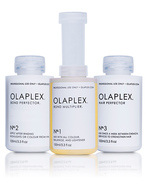 Olaplex
Ask your stylist about
Olaplex
- an add on service to maintain the integrity and health of your hair during color, also available as a conditioning treatment. This product is added into your color to multiply the bonds of your hair and prevent breakage. Learn more about Olaplex at
http://www.olaplex.com
---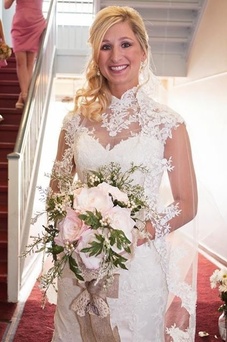 We offer a private room on the upper level of the salon, where each bride and attendant is given the time and attention they deserve. Brides are made to look and feel their best, while our Bridal Team puts them at ease for their special day. The Bridal Suite is an elegant, yet relaxed atmosphere where guests can escape the chaos and anxiety. Brides are welcomed to bring their own refreshments and are offered use of our kitchen facilities.
Bridal Menu:
Bridal Style- $60 & up
Bridesmaids Style- $50 & up
Flower girl Style- $25 & up
Practice- $20 per half hour
Bridal Makeup:
Headlines by Jackie & Co. is partnered with Indeesguise makeup artistry by Dee Dee Malloy. Consultations are available upon request, and her portfolio can be viewed at
http://www.indeesguise.com/home.html
---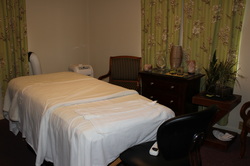 Facials By Marlene:
Our Bioelements Facial and Body Treatments are custom tailored to met each client's unique needs offering you head to toe beauty that will undoubtedly make you look and feel your best.

Bioelements Custom Blend Facial- $65
During this 60-minute facial you will be treated with our soothing plant based products. Customized aromatherapy is chosen specifically for your individual needs to help renew and restore your skin.


Bioelements Resurfacing Custom Blend Facial- $95
Indulge yourself in this 90-minute facial which has all the benefits of our Aromatherapy Custom Blend Facial plus the added benefits of our pumice peel to super exfoliate the skin bringing out smooth, radiant glow. This facial also includes massage of the head, shoulders, hands and feet to leave you in total relaxation.

Raindrop Body Treatment- $75
Relax on a heated bed while experiencing the benefits of essential oils used to balance body, mind and spirit along with a relaxing massage. 75 Minutes

Body Exfoliation Treatment- $90
Gentle exfoliation of legs, arms, feet, hands and back to soften and smooth your skin along with receiving the energizing and refreshing benefits of essential oils followed with light massage with enriching cocoa butter. 90 Minutes

Reiki- $30 or $60
Reiki Means universal life force energy and is what we are made of. Reiki makes it possible to positively affect the condition of your energy helping to alleviate stress and promote relaxation. Treat yourself to this natural healing method while relaxing on a heated bed and feel a deep sense of relaxation and peace from a light touch. For the ultimate treatment: Enjoy a 30 minute light massage followed by a 30 minute Reiki session.
---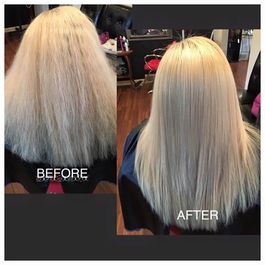 Brazilian Blowout: $225
Brazilian Blowouts leave frizzy hair smoother, shinier, and more manageable. It lasts 3-4 months, and with consecutive treatments builds up the hair and can last up to 6 months. It works by restoring the keratin into your hair that is lost by chemical use, blow drying, and age itself.


---